FLAT RATE SHIPPING – $499 ON ALL FLOORING ORDERS – PROFESSIONAL CONSULTATION CALL 952.994.9696
Beautiful Hardwood Flooring for Your Home or Business
Hardwood floors have long been the top choice for homeowners and business owners looking to bring an elegant, stylish appeal to the interior of their homes or offices. Its versatility and natural charm will give your place a unique personality and sophisticated beauty.
When we talk about a combination of aesthetics, reliability, or ease of maintenance, nothing beats hardwood flooring. Hardwood floors offer countless benefits, making it a great investment for aspiring homes and general resale value. We'll take you through some of the benefits of hardwood flooring, but before that, let's find out what exactly is hardwood flooring.
Hardwood floors are a natural wood product that comes in both solid or engineered structures consisting of real wood. Hardwood floors are coated in a protective finish to ensure high durability and optimum stability. Raw materials are carefully selected and tremendous control should be maintained over the moisture content of the wood.
Factory finished floors come in several finish types for protecting your floors. This multi-layer finish serves as a protective seal against stains, scratches, and general wear.
Oil finished hardwoods create a natural, authentic look and feel while creating a naturally enhanced sealer.
Traditional solid wood floors are time tested classics with tremendous long term value through the ability for refinishing and enhanced textures.
For engineered hardwoods, the wear layer is typically made from carefully selected hardwood. These wood species come in a variety of wood types giving you endless color options. Most engineered hardwood floors comprise of 2mm - 4mm thick wear layer allowing for the ability for enhanced textures and future restoration. The core layer makes engineered hardwoods dimensionally stable which improves performance in both dry and moist climates. The middle core absorbs most of the strain and stress from daily changes in the environment to ensure performance in all conditions. Engineered floors strike the perfect balance between the flexibility and hardness of the core and top layer, which is crucial to ensuring a strong connection and long term endurance.
Finally, the back layer of engineered hardwood floors is made from a variety of structures such as baltic birch plywood. Together with the other layers, this reduces the chance for the floor surface from warping or cupping.
Let's now take a look at some common benefits of hardwood flooring.
Benefits of Hardwood Flooring
1. Matches All Types of Décor
One of the major reasons why homebuyers are willing to pay top dollar for homes with hardwood floors is that they open the door a wealth of décor options. When you are planning on installing hardwood flooring, you are guaranteed to be able to find a style of wood floors to enhance your vision.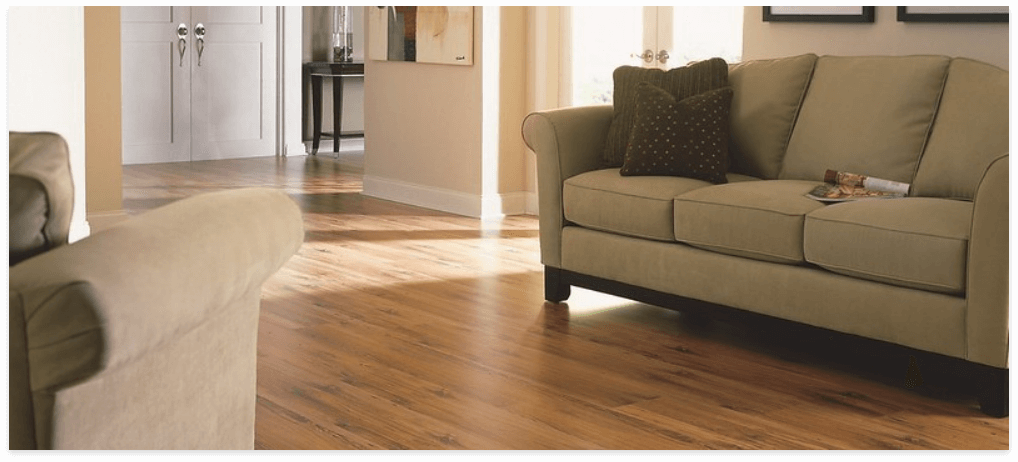 A wide range of highly versatile wood shades and stains are available that stay in style for decades. This allows for freely altering wall colors, furniture, and other surrounding décor without hurting the aesthetics of the environment. These aspects make hardwood floors an excellent floor covering for residential homes and commercial locations.
2. Enhances the Aesthetics of Your Home or Office
Another reason why hardwood has been a popular choice for thousands of years is due to the unique appeal and a sense of natural wonder. Every plank of hardwood flooring is a piece of natural artwork with its own unique grain pattern. In short, it adds a touch of elegance and a bit more connection to nature. Whether it makes the space more inviting will depend on the surrounding décor, but it's enough to make a great first impression on anyone who visits the home or store. Thus, hardwood floors add beauty and character to any space or property. Hardwood is an ideal flooring material for large, open spaces. This is primarily due to the patterns and grains present within its surface that help break the monotony of the space.
3. Healthier Indoor Air Quality
Offices tend to be more crowded than in residential spaces. They are more vulnerable to dust and dirt as employees and visitors frequently move in and out of the space.
While other types of floors are subject to the accumulation of allergens and dust, hardwood floors don't pose such problems, making them ideal for work and business settings. Any dirt that piles up is easy to clean. This leads to better indoor air quality, which makes your office a healthier place to work in. Posing fewer health risks for everyone, a clean office makes the employees more efficient and increases their productivity.
Similarly, homes with other types of flooring tend to deeply absorb pollen, pet dander, and harmful allergens, thus resulting in poor indoor air quality. To keep yourself and your family safe, consider replacing carpet with hardwood flooring.
At Unique Wood Floors our products all pass the stringent CARB2 standard for formaldehyde emissions. Ask your representative today for the most updated documentation for your brand of floors.
4. Easy to Clean and Long-Lasting
Since hardwood floors do not collect as much dirt, dust, and debris, they require less maintenance than other floorcoverings. A busy office, however, can accumulate more dirt from the outside. One of the top reasons why office owners prefer hardwood floors is that they are incredibly easy to clean.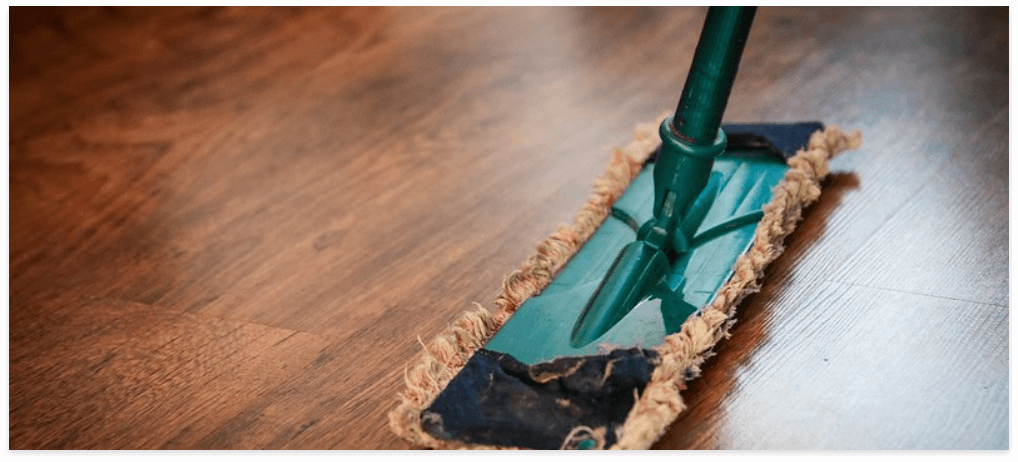 All you need to do is sweep the floor using an appropriate floor mop periodically. Make sure to use the correct floor cleaner for your floors. If you don't clean the floor during a particular week, hardwood floors won't collect as much grime and dirt as other flooring options would. The pattern of hardwood floors itself makes it difficult to spot any dirt.
You might be interested in knowing that hardwood materials are harvested from trees that grow much slower, end up being denser, and are more durable than softwood. This makes them last longer. However, the precise durability of hardwood varies from one species to another. The ratings for different species can be checked using a wood hardness rating scale with the National Oak Flooring Manufacturers Association (NOMFA).
On top of that, the steady appearance of the hardwood floors allows for it to be easily restored. This is the reason why hardwood floors last for many years and don't normally need to be replaced. In contrast, other types of floors start experiencing discoloration and stains, which are hard to remove over time.
5. Can Be Refinished
While other flooring options require you to replace the entire flooring to change the color, hardwood floors are able to be refinished in the future, making them much more economical than other types of flooring in the long run.
Understandably, refinishing a floor costs much lower than purchasing and installing new flooring. This means you can significantly change the look of your home or office without investing too much.
If you purchased a home or an office space but don't like the color of the hardwood floor, simply refinish it with the shade of your choice. You might be able to have the look you have always dreamed of!
6. Feels Warm and Comfortable Underfoot
Hardwood maintains a relatively even temperature throughout the year. Not only is hardwood warmer than natural stone or other hard surfaces; it is compatible with underfloor radiant heating systems, keeping your floor warm and comfortable during the chilling winter months.
Installing hardwood floors is thus an efficient way to maintain the warmth of your home or office. Moreover, hardwood flooring provides a moderate degree of comfort underfoot, especially when installed over an insulating underlayment.
7. Improves the Acoustics of the Space
Hardwood floors can improve the acoustics of your room. They eliminate vibrations and hollow sounds and make for great music or dance studios. Selecting the proper flooring underlayment further improve sound qualities with highly rated STC and IIC scores.
8. Increases the Value of Your Home
Considering the advantages associated with hardwood floors, such as ease of maintenance, and high durability; most homebuyers prefer homes with hardwood floors and are willing to pay more for them. This means hardwood floors add value to your home.
The higher demand for such homes leads to a further increase in home value. Since hardwood floors are highly sought-after most real estate agents would agree that hardwood floors are a key factor for perceived home value.
If you plan to sell your home in the near future, hardwood might be worth considering.
After reading all the benefits of hardwood flooring, we hope you will give hardwood floors a chance. Whether you're looking for comfort or value, hardwood floors are an excellent flooring solution!
Talk to the people who know wood floors by getting in touch with us now!
100% Risk Free Consultation
Contact us today if you have any questions

Flat Rate Shipping
In-Home delivery within the Twin Cities.

Call Us
In-Home delivery within the Twin Cities.