Unique Wood Floors works hard every day since 2003 to deliver the best results for our clients. We believe in delivering top quality products and services to our clients. Your satisfaction is our main priority. But don't just take our word for it; here are some quotes from past clients. If you have something to add, please let us know.
We have used Unique Wood Floors on 6 of our recent build jobs – there is always service along with a supreme product quality UWF offers that others in my region simply do not. Highly recommended!
EETKO Builders
Traverse City, MI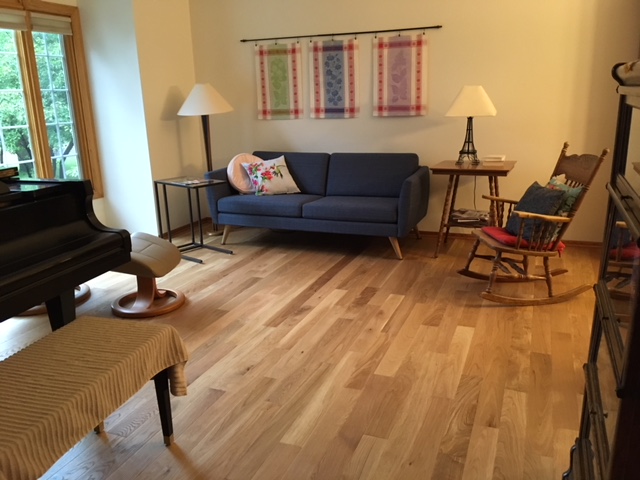 Jim and Bobby, thank you very much for our beautiful new floor! Happy Tuesday to you!
Ken and Lynn
Victoria, MN
Original Comment: The flooring is installed and looks spectacular. I could not be more pleased. The lighter tones go great with the maple cabinets and built-ins.
Update: We are still loving the floor. Probably the biggest impact of all our improvements thus far.
Stuart
Chanhassen, MN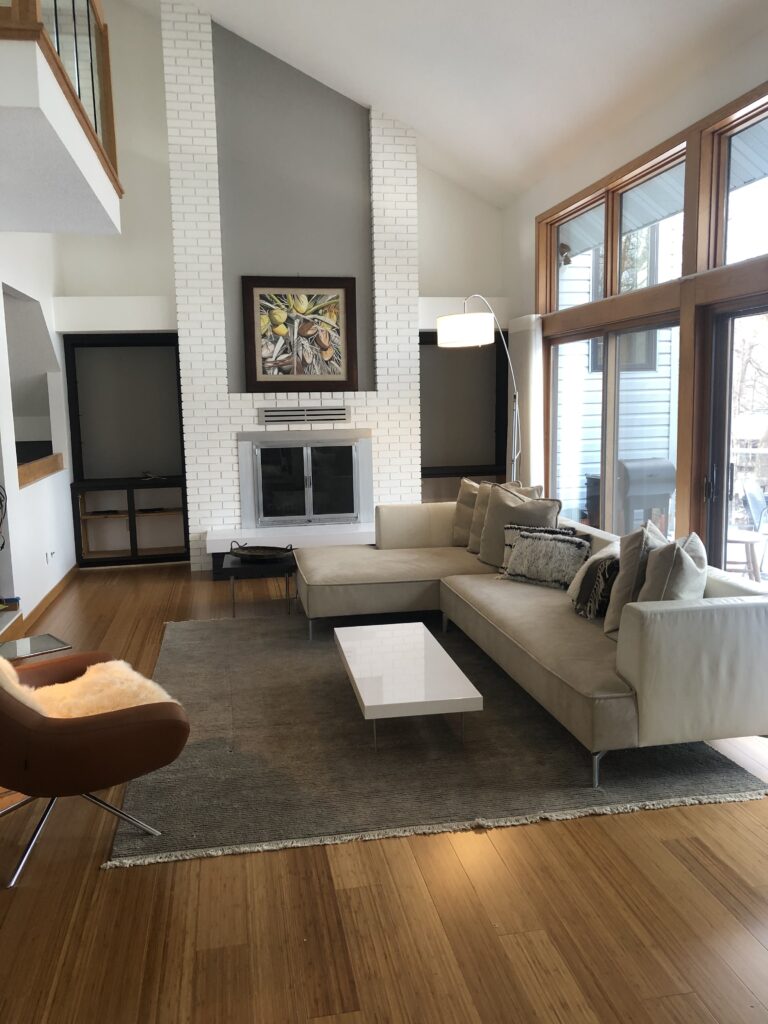 Winston ! I love my floor. Leon was fantastic ! ! Jim too ! ! !

Kim

Minnetonka, MN
I purchased 23 boxes of your Brazilian Teak on 7/22/12 to floor my living and dining rooms. I received the shipment in 5 days (very fast), and after a series of unsuccessful attempts to install it with different nail guns, I purchased a Ramsond floor nailer, which worked flawlessly. I was very impressed with the quality of the wood flooring; there was virtually no waste, and I did not have to reject a single piece of wood. Our guests (and our dogs) all think the floor looks spectacular!
Duane
Holt, MI
Hi Winston, I thought you might enjoy seeing a few photos of the flooring. Again, I cannot say enough good things about Mohammed and his crew. They did a fantastic job and were so friendly and easy to work with. Also, your delivery man was great as well. We could not be more pleased.
Thanks and have a great day.
Bruce
Lakeville, MN
We contacted Unique Wood Floors after seeing an example of their work at a Remodeler's Showcase home. Though we were just doing a small project of about 200 square feet of wood — replacing worn carpet in an entry-kitchen-office-powder room traffic area, plus replacing the tile in the powder room — we were given high-quality service in a friendly and timely manner. We had many questions over the span of a few weeks, all of which were answered to our complete satisfaction.
Richard A.
Eagan, MN
I just wanted to let you know the floor arrived and we LOVE LOVE LOVE it. Thank you for being so diligent with communication and we would give you 10 stars if we could. Thanks again
Doug and Marybeth
Glendale, WI
We are so very happy with how it looks!!
Beautiful… Thank you
Jesse and Rene
Bay City, MI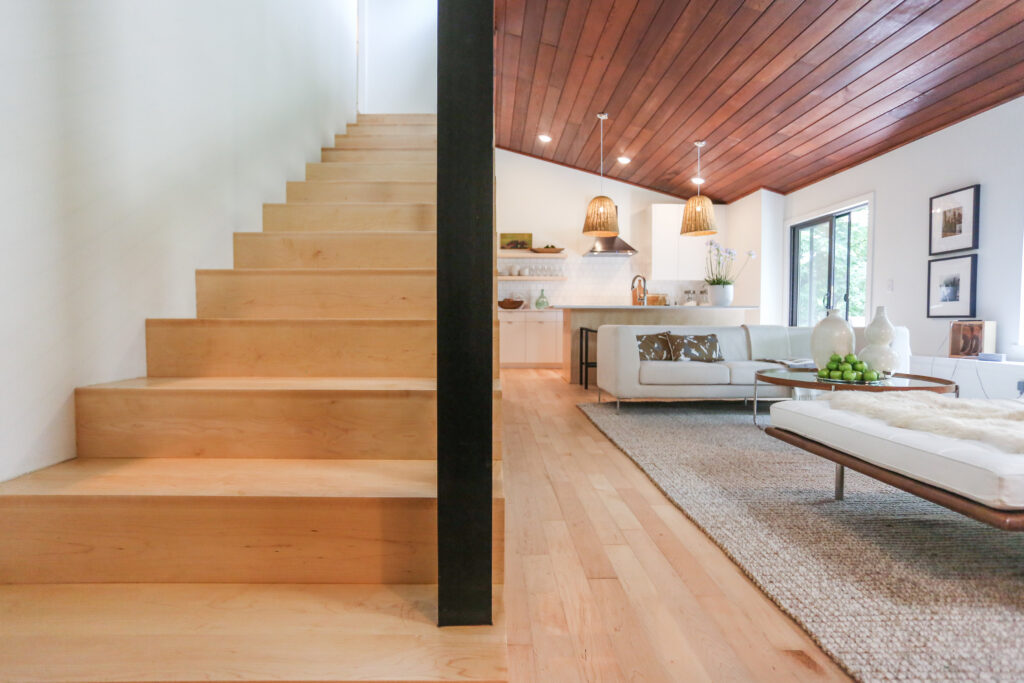 Thank you to Winston and his team. We have used them a few times now and our clients were elated with the showroom and expertise in getting all their questions ordered. The product was available and delivered n a timely manner for us to install.
JKath Design Build
Minneapolis, MN
We had some ideas, a contractor we trusted, and everything would fall into place once we found the right floor. Four separate companies send representatives to measure our home and reviewed different products until my eyes crossed. We checked out hardwood, laminate, wood-look tile and each time we thought we were getting close, things would fall apart.
To say I was frustrated and ready to throw in the towel is a gross understatement. I was ready to call the whole thing off until I walked into Unique Wood Floors and met Christian. A friend had recently worked with Christian and her renovation was beautiful. I showed him what I was working with, tossed out some colors and basically challenged him to show me anything that would work. Within an hour I had picked a floor, had a rough estimate and scheduled, the Project Manager, Jim to come and measure our home for a final price quote. Christian had explained the different options which made the selection easier, and Jim confirmed the choice once he saw our space and put my mind at ease that we had our floor! The final price was extremely competitive, the installer was pleasant and very professional, and the end result is absolutely gorgeous. Thank you, Christian and staff, for getting me back on track and keeping the project moving. I will be back to see you when we start the next one.
Colleen
Eagan, MN
Dear Andrew, I would just like to take this opportunity to thank you for your professionalism, knowledge of your product, and attention to detail. The Brazilian Machiatto actually started our whole design process for our custom home last Fall, and, because of your efforts in resurrecting a discontinued item, our dream will come to fruition. I appreciate your individual attention greatly.
Tim P
St Louis, MO
2020-07-13
Thank you so much for the Acacia flooring. It's a beautiful product and we have received so many compliments. In fact, one of my friends loves it so much that he would like to inquire about buying some for himself. Is it possible for you to quote a price with shipping to Colorado Springs for coverage of 3000sqft? I would really appreciate it! Thanks so much.
AJ
Colorado Spring, CO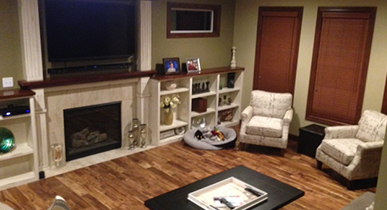 Thank you again for helping to make our house amazingly beautiful! We've already had so many people just drop their jaw when they see the floors. Makes me giddy!
Brad & Jennifer
Maple Grove, MN
Hi Winston, I want to thank you for your expert assistance in your handling of the Hallmark flooring issue we encountered. We now have a beautiful new floor and are extremely happy with both the product and your customer service. We are on your email list we are interested in the European Oak Steel that we saw online. We have a room that we think this might look great in. I'm enclosing a photo of our new floor, it's more stunning in person! Thank you again and say hi to Joe for me.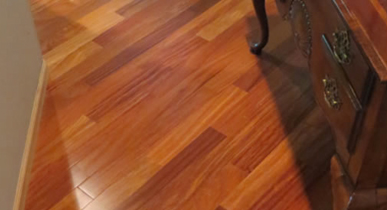 We received several bids to replace our tile floor with wood. We decided to go with Unique Wood Floors in Hopkins. Their sales presentation was very professional and their bid was competitive in price. The installation was smooth and we are so happy we went with Unique. We have already recommended them to some of our friends. I would encourage anyone considering a wood floor to visit them.
Bill and Sue
Minnetonka, MN
Hi Andrew, I just wanted to thank you for an amazing service and help with our beautiful floors. Everything went so smooth with ordering, shipping and installation and we are thrilled. We thank you once more and all the best.
Ksenija
Kitchener, ON
We had a very large project requiring a large amount of hickory flooring. We also had to have demolition and installation done on an incredibly tight schedule. Unique was the only supplier who could acquire the flooring in time and bring the human resources to bear in time. Our sales person, Jim, was instantly responsive and just "made it happen" when we needed anything. Price was exactly as quoted with no surprises. We highly recommend Unique!
Bob & Eileen
Lakeville, MN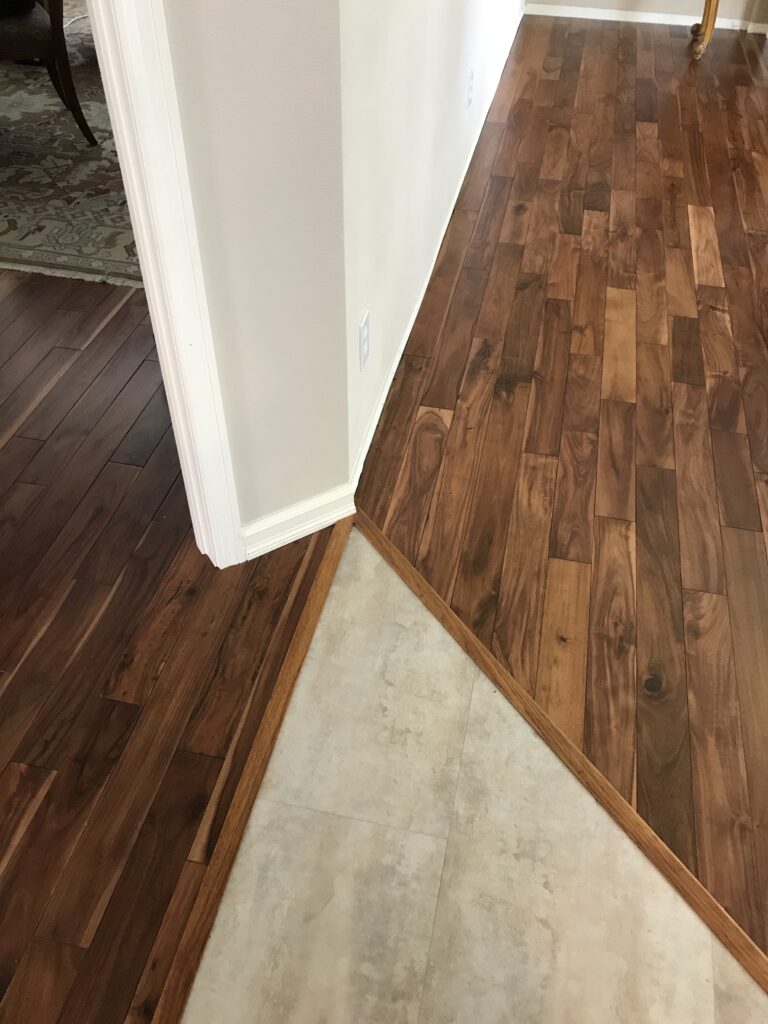 Hi Bobby, Attached are pictures of the acacia recently installed in my home to match what was currently in-place. As you can see, it is a great match. My installer even said your flooring was better than my originally installed product. Thanks for all the help.
Ken
Spokane, WA
Hi Mary, Thank you for all your help and follow through with this — your knowledge and professionalism were great.
The floor looks fabulous and the installer did an excellent job.
Unique provided excellent customer service . . . from attention to details, quick turn around, and follow up calls as the flooring arrived ahead of the custom treads and risers! Greatly appreciated!
Lori B.
Lakeville, MN
Just had the floors installed yesterday. Very pleased with the quality of the wood flooring from you all. Love the colors, grain and variations in the wood itself.
Alan
Flower Mound, TX
It has been such a pleasure to do business with Unique Wood Floors. From the first day we stopped in to look at wood samples for our living room/dining room area we received the most professional and thoughtful service. The acacia sagebrush wood was the perfect choice to complement cabinetry that had been done in the adjoining kitchen area. The finished floor is just beautiful. One of the two men who installed it commented multiple times about the beauty of this floor and the high quality of this wood. We are very grateful for all the extra time you invested in our project, particularly over the phone, answering all of our questions and making sure we had everything we needed especially for the entry steps that needed a custom blending in a complimentary wood type. We are very grateful to all of you.
Bill & Mary
Bloomington, MN
Thanks again for your help with this. I understand that these things do come up and I respect your professionalism in dealing with the situation. Many suppliers would have just ignored my concerns and created a big headache. I am very pleased with the look of the flooring and am sure it will look great when installed!
Michelle
Jersey City, NJ
I just wanted to take a minute and write you an email to let you know how wonderful our new hardwood floors look! You were exactly right, it looks just like the floor in the picture on your site. And it looks even nicer laid down and looking at them in person! We've gotten so many comments on how good they look. And we couldn't beat the price! Also, you were so helpful in getting the wood to us! I appreciate all of your hard work and help! Thanks so much again!
Melody
Allentown, GA
Winston, thank you sooooo much.. got the flooring yesterday afternoon… looks great… I cant thank you and your staff enough. You guys have been great. I would recommend you to everyone and hope to do more business with you in the future.
Val
Redding, CA