CORK FLOORING IN HOPKINS,
MINNESOTA
Unique Wood Floors has been an enthusiast of premium cork flooring in Hopkins, Minnesota for more than a decade. If you are a local home or business owner and you are interested in learning about all the advantages of state-of-the-art cork flooring options please come over to our showroom or give us a call today at 952-767-9697. We carry many top brands in cork flooring including Wicanders and Ipocork.
The Benefits of Cork Flooring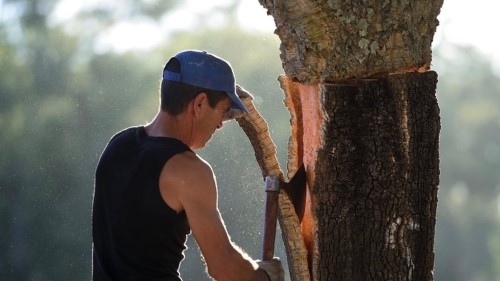 The two largest benefits of cork flooring have versus any other flooring option is environment and comfort. Cork flooring is the leading green flooring option for environmentally conscientious consumers. Cork has been used as a building material for years and is making a splash in our market.
More than half of all Cork around the world is grown in Portugal where Cork Oak trees are abundant. Cork is made from the bark of these trees. This bark can be safely removed without harming the tree itself. Every 9 years the bark reaches maturity and is able to be harvested again and again making this one of the most rapidly renewable building materials on the market. When used for flooring, cork is known to last 50 years or more with proper care and a wear resistant finish. Cork has a natural porous feel making it resistant to dents and naturally resistant to moisture. Even indentations from heavy furniture bounce back into shape after the furniture is moved.
Cork staining options have matured and there is no end to the options you can have with cork flooring. Colors range from white to dark brown. If you have a room with a certain theme or color scheme, there is no doubt you can find a cork option to complement it.
Cork flooring is an anti-microbial material. That means that it resists bacteria, mold, mildew, and even insects. It is fire-resistant, and even if it does catch fire, the smoke that is produced isn't as toxic and has fewer chemicals than other materials. Cork doesn't release compounds that can affect the air quality in your home.
Cork is often used in kitchen areas where many homeowners spend long hours standing and preparing their meals, it provides a nice cushion that is both easy on your joints and warm on your feet. This absorbent quality works to muffle sound and makes a home a little bit quieter. Cork has a whole host of benefits that can make your home safer, quieter, and more environmentally friendly. Make cork flooring the choice for your next flooring install, and make Unique Wood Floors your next stop in Hopkins, MN.