If you live in a two-level home, the interior stairway can often be used to create a dramatic accent for your interior decor and serve as an engaging focal point for anyone who happens to enter the front door. Whether you have a simple straight set of stairs, a 90 degree run with an intermediate landing, or a grand curved affair that sets off your foyer, your stairway can complement both levels of your house by conveying a sense of warmth and comfort or making a bold architectural statement.
One of the methods many custom home builders use to make their stairways stand out is to install pre-built units with hardwood treads and risers that can be stained to match the prefinished flooring on the main level of the home. They often install a carpet runner up the center of the stairs to save wear and tear on the stained finish and to provide a color contrast with the hardwood's natural grain.
While pre-built hardwood stairways can be beautiful, they're not always the most practical or economical solution for your finished home. So is there an easy and budget-friendly way to upgrade your old carpeted stairway into a warm interior accent? Actually, there are two options. They can each be done by a handy homeowner, however, we recommend hiring a professional for most stair projects.
Installing Hardwood Treads and Risers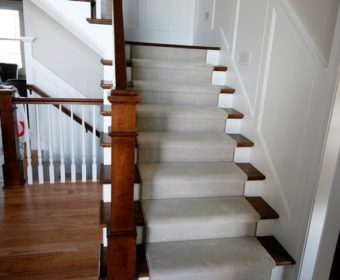 Most carpeted stairways have softwood treads and risers which with a little effort can be replaced with prefinished hardwood substitutes or for a more colonial look — just install hardwood treads and paint the risers. Unique Wood Floors offers treads and risers in numerous wood species, finishes and sizes to fit most standard sets of stairs. If your stairway is enclosed in with walls on either side, standard treads feature a curve on the front edge and squared off ends that can be trimmed to fit. Homeowners with stairways exposed on one side should choose universal return treads which feature an attractive finished edge.
Unique Wood Floors offer factory finished hardwood treads and risers which match the flooring we stock or choose an unfinished hardwood to create your own unique hue. If budget is a concern, you can also build prefinished hardwood treads out of the same selection you chose for your floor and use a stairnose molding for the front edge. Intermediate landings areas can be handled in the same fashion.
Custom homebuilders give their stairways a dramatic look and you can too by upgrading your old carpeted stairs with new hardwood treads and risers.