So, you've just completed that flooring renovation, and you find yourself with some leftover flooring materials. Before you decide to stash them away indefinitely or toss them out, hold on! Those extra flooring pieces can be a goldmine of creative opportunities to add charm and functionality to your home. In this blog post, we'll explore some brilliant and unexpected uses for leftover flooring that will surely elevate your interior design game.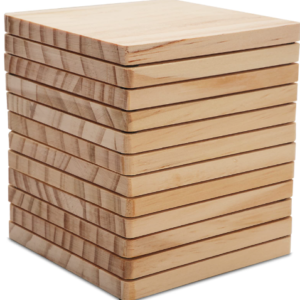 1. Stylish Coasters:
Why settle for generic coasters when you can create your own unique ones using your leftover flooring? Cut the flooring into small square or circular pieces, sand the edges if needed, and voilà! You've got yourself a set of stylish and durable coasters that will protect your surfaces in style.
2. Wall Art:
Add a touch of sophistication to your walls with DIY wall art made from your extra flooring. Whether you create an abstract design or a chic geometric pattern, these pieces can serve as eye-catching focal points in your living spaces.
3. Furniture Accents:
Give your furniture a facelift by using the leftover flooring as accents. Cut pieces of the flooring to fit on the top or sides of coffee tables, nightstands, or shelves to create a cohesive look that complements your flooring.
4. Plant Stands:
Elevate your indoor plants (quite literally) by using the flooring remnants as bases for plant stands. With a bit of creativity and some basic woodworking skills, you can transform the leftover pieces into beautiful stands for your greenery.
5. DIY Shelves:
Craft your own stylish and sturdy shelves by repurposing the flooring into shelf planks. You can opt for floating shelves or wall-mounted ones, and the result will be both functional and aesthetically pleasing.
6. Custom Key Holder:
Keep your keys organized and in style with a DIY key holder made from your spare flooring. Attach hooks or small knobs to the flooring piece, and mount it on your entryway wall for a practical and attractive solution.
7. Pet Bed Platform:
Don't forget about your furry friends! Create a cozy and elevated pet bed platform using the leftover flooring. Just cut the flooring to the desired size, add some soft padding, and watch your pets relax in comfort.
8. Boot Tray:
Keep muddy boots and shoes in check with a custom-made boot tray. Cut the flooring to fit inside a tray or shallow box, and you've got yourself a functional and stylish solution for a tidy entryway.
9. Bookends:
Add a touch of elegance to your bookshelves with DIY bookends made from your flooring offcuts. Cut the pieces into geometric shapes or simple rectangles, and they'll not only keep your books upright but also serve as eye-catching decor.
10. Drawer Liners:
Line your drawers with pieces of leftover flooring to protect them from wear and tear. Not only will this keep your drawers looking fresh, but it will also add an element of luxury to your storage spaces.
With these inventive ideas, your leftover flooring will no longer be an afterthought. Instead, they'll become valuable assets to elevate your home's style and functionality. So, next time you undertake a flooring project, remember the endless possibilities that lie within those extra pieces. Get creative, have fun, and transform your home with a dash of DIY brilliance!