Homeowners face several choices when installing hardwood floors. Besides opting for exotic hardwood or domestic wood products, they also need to think about color and profile. But one important factor often overlooked and affects the appearance, longevity, maintenance, and safety of your wood flooring. Will you install matte, satin, semi-gloss, or high gloss hardwood floors? Let us take a closer look.
What Is Sheen?
In very simple terms, sheen indicates the amount of reflection produced by a finish. High gloss delivers higher levels of reflection, and thus more sheen, whereas matte creates almost no reflection, and is considered to have the lowest level of sheen. Semi-gloss aka medium gloss comes in near the middle, satin finish is gaining in popularity falling between matte and semi-gloss for sheen.
Higher Gloss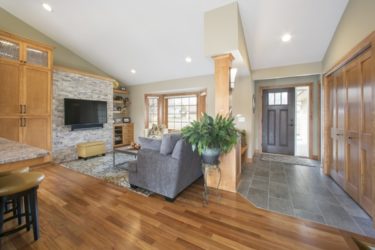 The more sheen in your hardwood floor finish, the greater level of detail and drama displayed. For dining rooms, sunrooms, libraries, studies and bedrooms, a high gloss wood floor finish defines the wood grain and gives darker stains more pizzazz. It offers an elegant finish that appeals to a certain decor. Remember that a high gloss finish also wears easily, so choosing it for a high traffic area like the hallway or main living space could be less wise. This type of finish also highlights dust and debris on the floor, potentially increasing maintenance demands. Footprints show up easily on high gloss floors, although that depends on the stain color chosen. Commercial applications often have a high gloss finish. This sheen level may present a more slippery surface, much like a basketball court, but countless public buildings across North America rely on the durability and beautiful appearance of high gloss hardwoods.
Lower Gloss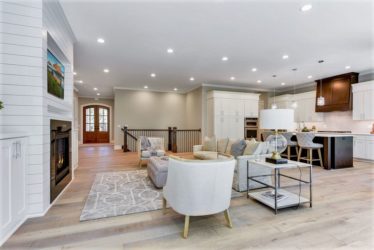 As we mentioned, glossy may not be the best option for traffic areas. Wear marks show up rather quickly and scratches or imperfections in the finish tend to stand out. If you're looking for the drama and appearance of the highest sheen level, yet want to invest in hardwood that will hide imperfections and last longer, semi-gloss wood floors work very well. Most popular hardwood brands carry lines with a semi-gloss finish, available in a broad range of wood species including dramatic exotic types and traditional domestics. Ask for samples of the flooring you prefer in a semi-gloss sheen. The amount of gloss should be indicated on the product information, often in a percentage, but actual appearances vary. If the semi-gloss is still too reflective for your tastes, consider a satin finish. This sheen level is lower gloss and often called lacquer, but does present a slight sheen for that upscale look. Depending on where the wood flooring will be located and what type of finished look you're going for, choosing between lower and higher gloss hardwood floors is fairly straightforward. Start by thinking of the use of your space. For a dramatic appearance, high gloss fits the bill. For busier areas and those who prefer a lower maintenance product, matte finish is the way to go. Talk to your flooring retailer and ask for samples to make your selection process smoother.