My first home was a condo with a dark oil finished engineered wood floor. The home was mostly modern décor. Several years after the floors were installed I was watching sports in the living room when my wife asked me why it sounds like there is a squishy sound on the wood floor. Turns out it was a flooded floor…This caught my attention right away. I decided to pause the game to see if we could replicate the issue. Some water seeped out from the edges of each plank and I knew something was wrong. Upon further investigating, the leak came from an air conditioner unit in the utility closet. Who would have guessed something so small such as a pebble being stuck in a condensation tube can cause so much damage? It turns out this small pebble caused the water to overflow for several weeks before enough water accumulated for us to notice.
Removing the pebble was easy but we still had a big mess on our hands. It was time to air out the concrete subfloors. Beneath the flooring, we used Floor Muffler, a padded acoustical underlayment which is a requirement by many condominiums for sound reduction purposes. This pad served as a barrier and reduced the amount of moisture soaking into my wood floors. I started by taking up the baseboards along the wall and each plank one at a time while saving the planks which were still in good shape.
The Insurance Company
In the morning I made a phone call to my insurance company to explain the situation. Upon gathering some basic information the insurance phone rep reassured me that they will send a claims adjuster for a site visit to gather additional information. Looking back, the one thing I should have done was to review my insurance policy to find out my deductible before filing a claim. If your deductible is close to the maximum cost of the damage, you might consider just paying out-of-pocket rather than risk being put into a high-risk bracket by your insurance company.
When the claims adjuster stopped by I was eager to tell him all about my floors and the cause of damage. The claims adjuster started by introducing himself. After I explained the situation to him he proceeded by measuring the area and took a sample back to the lab for an appraisal. He reassured me they will be in touch shortly with more information.
Remember, when replacing a wood flooring you want to make sure to account for the cost of several things in addition to the flooring itself. These things include demolition, installation, remove and replace baseboards, underlayment, and transition pieces. If your floor has been discontinued, it is important to replace the entire area with the same wood floor and not just the damaged area in order to restore the home back to the original look. The value of your home will surely be affected by having an abomination of different pieced together flooring.
The Settlement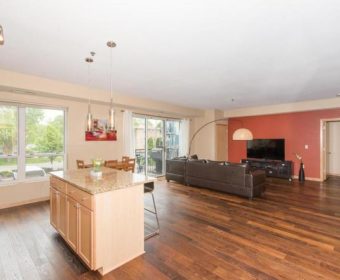 After a few days, I received the information promised with the flooring and general labor costs outlining the details. Being a floor guy, I was a bit of a harsh critic.
First of all, the replacement was listed for a laminate floor which is generally valued on average ~$2.00 per square foot lower than an engineered hardwood. While the difference is substantial, but it was an honest mistake. Secondly, there was no padded flooring underlayment ~$0.50 per square foot which would need to be replaced due to mold and mildew. The area I replaced was about 900 square feet and the difference came out to more than $2000 dollars.
After I pointed out the difference I was able to recuperate the cost to get everything taken care of in the form of a nice check to cover the cost of replacement. However, this made me wonder how many fellow homeowners might have missed out on some of these fairly significant details?
If you ever have a squishy wet floor first look up your deductible and determine the magnitude of the damage. If you're not sure of the cost, look for an old invoice or give me a call to get an appraisal for the floor. If you decide to get insurance involved, first make a mental checklist of the areas affected and possible replacement costs. It might be difficult to value a discontinued floor. Even professionals at the insurance company can get it wrong. Your local floor guy can help you with product identification.